Evaluating the ecohydrological dynamics of the Cerkniško Polje intermittent lake using a multidisciplinary approach
Description
Karst areas are characterized by the solubility of carbonate rocks resulting in dominant fast drainage through numerous fractures and channels. There are important aquifers that supply water to a large percentage of the world's population. Because of fast underground flow of water, filtration is not efficient and karst areas are therefore very vulnerable to any kind of pollution. Additionally, they are prone to extreme meteorological events, such as droughts (absence of surface water) and intensive rainfall events (flooding of karst poljes).
An important part of karst landscape in Slovenia are karst poljes, large enclosed and flat depressions that are typically characterized by surface flow of water and regular flooding. Such specific hydrological conditions result in vegetation and fauna, adapted to these conditions. They form different communities (ecotopes) with very high biodiversity and important ecological role. Also, because of the favorable environment for humans poljes were always the most suitable places for settlements in such karst regions.
One of the most characteristic poljes is Cerkniško Polje, located in the series of poljes of Notranjsko Podolje, which belongs to Ljubljanica River recharge area. It is the largest polje in Slovenia, which is regularly flooded for up to 8 months per year. Its peculiarity has attracted researchers for more than 300 years during which time many different studies have taken place about flooding processes, and human adaptation to flooding, biodiversity, and also possible use for hydropower production. Therefore, Cerkniško Polje and its catchment is one of the most prominent hydrological systems in Slovenia. In addition, it belongs to the recharge area of spring Malni, which is used for a water supply for more than 20.000 inhabitants.
Previous studies have analyzed the mechanisms of flooding (frequency, extent and duration) and quantified polje's water balance. Ecological studies have focused on mapping of habitat types, multiple inventory and analysis of some characteristic animal species and their dependence on changeable land use. However, to date there have been very few multidisciplinary studies that investigated the impact of hydrological dynamics on biodiversity, land use and their dynamics, from which predictions can be made in the future of potential impacts.
The main objective of project is to develop a multidisciplinary approach that comprises measurements and analyses of hydrological dynamics of Cerkniško Polje and its relation to rainfall events, structure of adjacent aquifer and spatial distribution of key habitat types. The plan is also to model possible flooding scenarios that would take into account future climate change.
The work will carry out a complete hydrological and meteorological measurement campaign including continuous measurements of physical and selected chemical parameters, water quality sampling, discharge measurements and rainfall measurements. These measurements will be supplemented with land cover studies (mapping, remote sensing), hydrogeological studies and additional speleological investigations. All obtained data will be analyzed to assess the flooding dynamics and their impact on habitats. Interpretations of flooding dynamics will be verified with construction of robust conceptual and numerical hydrological models that can be used for identification of geometry (position and dimension of channels) of the polje's adjacent aquifer. With use of global climate models and downscaling them some predictions, how different scenarios of climate changes affect the flooding dynamics and their impact on habitats (possible changes of characteristics of soils, vegetation and animals) and human activities. With comprehensive analysis we can prepare some suggestions for further activities on Cerkniško Polje recharge area to keep flooding dynamics and biodiversity at desired level.
Project steps
The work packages are defined chronologically, where WP0 that presents management of project is taking place the whole time. The first part of the project aims obtaining different hydrological (WP1) and ecological (WP2) data. For many analyses at least one hydrological or meteorological year is fundamental and because of numerous used methods, this phase can take place for almost the whole time of project. First interpretation (WP3) can be relatively early after obtaining the first times series of data. Within progress of project and additional collected data, interpretations and numerical models can be improved until almost the end of project. Synthesis, predictions of future scenarios, presentation and submission of one or more papers (WP4) are planned for the last phase (year) of the project.
WORK PACKAGE 0 – PROJECT MANAGEMENT
WORK PACKAGE 1 – OBTAINING DATA RELATED TO HYDROLOGY
1.1. Collection of existing hydrological and meteorological data
1.2. Establishment and maintenance of observation network of continuous measurements
1.3. Discharge measurements
1.4. Water quality sampling
1.5. Other investigations
WORK PACKAGE 2 - OBTAINING DATA RELATED TO ECOLOGY
2.1. Collection of existing ecological data
2.2. Additional study of ecological data
WORK PACKAGE 3 – INTERPRETATION OF OBTAINED DATA AND MODELLING
3.1. Analysis and interpretation of obtained data
3.2. Hydrological modelling
3.3. Modelling of climate change scenarios
WORK PACKAGE 4 – SYNTHESIS OF ALL RESULTS AND PREDICTION OF FUTURE DYNAMICS
4.1. Synthesis of all findings
4.2. Prediction of flooding processes and ecological dynamics in future
4.3. Presentation of findings for public
| | | | | | | |
| --- | --- | --- | --- | --- | --- | --- |
|   | 0–4 month | 5–8 month | 9–12 month | 13–16 month | 17–20 month | 21–24 month |
| WP0 | x | x | x | x | x | x |
| WP1 | x | x | x | x | x |   |
| 1.1. | x | x |   |   |   |   |
| 1.2. | x | x | x | x | x |   |
| 1.3. | x | x | x | x |   |   |
| 1.4. | x | x | x | x |   |   |
| 1.5. |   | x | x | x | x |   |
| WP2 | x | x | x | x | x |   |
| 2.1. | x | x |   |   |   |   |
| 2.2. | x | x | x | x | x |   |
| WP3 |   | x | x | x | x |   |
| 3.1. |   | x | x | x | x |   |
| 3.2. |   |   | x | x | x |   |
| 3.3. |   |   |   | x | x |   |
| WP4 |   |   | x | x | x | x |
| 4.1. |   |   |   |   | x | x |
| 4.2. |   |   |   |   | x | x |
| 4.3. |   |   | x | x | x | x |
Results
EVENTS AND PUBLICATIONS
Web pages to some projects and publications, related to the research area and topic:
Project: LIFE Narava 06 - Presihajoče Cerkniško jezero 
Report: Kartiranje habitatnih tipov - Presihajoče Cerkniško jezero
Paper: Water level fluctuations and air temperatures affect common reed habitus and productivity in an intermittent wetland ecosystem (A. Gaberščik, M. Grašič, D. Abram & I. Zelnik)
Paper: Water-level fluctuations as a driver of Phragmites australis primary productivity, litter decomposition, and fungal root colonisation in an intermittent wetland (N. Dolinar, M. Regvar, D. Abram & A. Gaberščik) 
Paper: Poskus ocene vodne bilance Cerkniškega polja (G. Kovačič)
Paper: Cerkniško jezero in njegove poplave (A. Kranjc)
Paper: Cerkniško polje kot primer poseljenega kraškega ranljivega območja (A. Smrekar)
Report: Turloughs: Hydrology, Ecology and Conservation (S. Waldern)
NEWS
During first two months of the project (September-October 2020) we organized some meetings, which were done by telephone and video calls and by e-mails (pandemic period). The topic of meetings was organization of work, exchange of data and sharing the knowledge.
At the beginning of project Cerkniško Polje has been flooded, what enabled some field work for taking samples of water and photo documentation. Establishment of additional observation points for hydrology was therefore not possible and is postponed for dry period.
Therefore, the time has been spent for collection of existing data (hydrological, meteorological, ecological, satellite and aerial images etc.) and beginning of their analyses.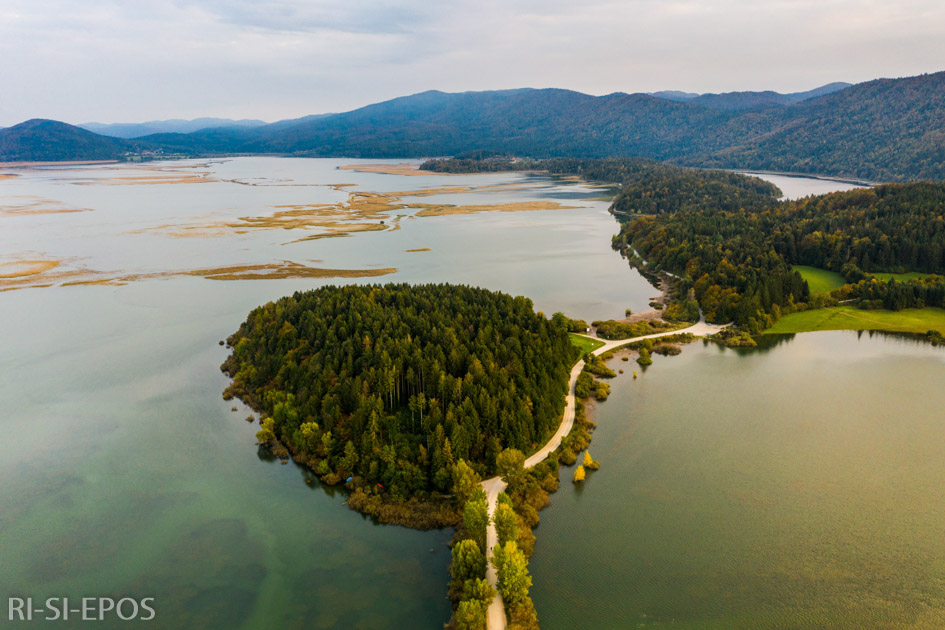 Keywords
Cerkniško polje
forecasting
modelling climate change scenarios
hydraulic models
habitat types
flooding dynamics
ecohydrology
karst aquifer